Twitter Selfie Contest: Win $500 Travel Award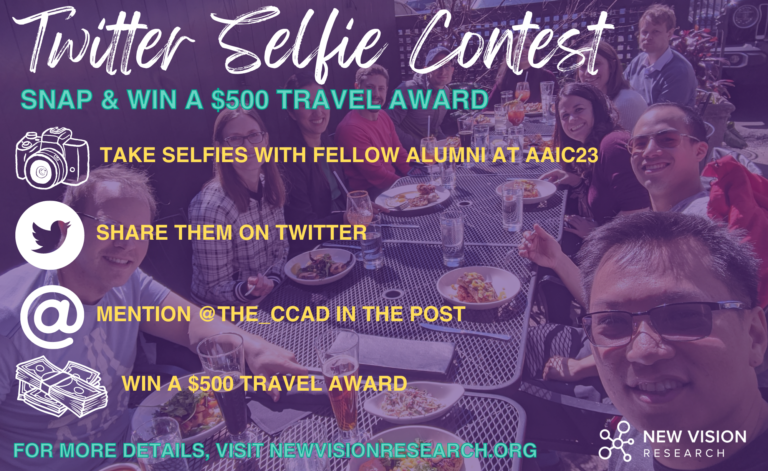 CONTEST CLOSED
CONGRATULATIONS to Dr. Shea Andrews on winning the $500 travel award for the most selfies taken with fellow alumni at #AAIC23!
With so many CCAD alumni attending AAIC23, we thought it would be fun to do a contest giving each of you a CHANCE TO WIN a $500 travel award. The rules are simple:
Take selfies with fellow CCAD alumni (or a CCAD mentor for bonus points) 
Share it on Twitter 
Mention @The_CCAD in the post
The MORE PICTURES you post with fellow CCAD alumni, the MORE POINTS. The more points, the better your chances of winning. Each alumni in the picture counts as one point. Pictures with a CCAD mentor will count as two entries. (For example, if you post a picture with two fellow alumni, you will receive two points.  If you post a picture with one fellow alumni and one CCAD mentor, you will receive three points.) 
Please note: You must be the one to post the picture to be entered in the contest and you can NOT count yourself as a point. If you have already posted pictures with alumni, just simply tag us in a reply on the post. 
The contest will end on Friday, 7/21. The winner will be announced on Twitter on 7/24 and contacted directly via email. 
May the alumni with the most selfies win! 
If you have any additional questions or concerns, please email us at admin@newvisionresearch.org