New Vision Research Progress - Miranda Orr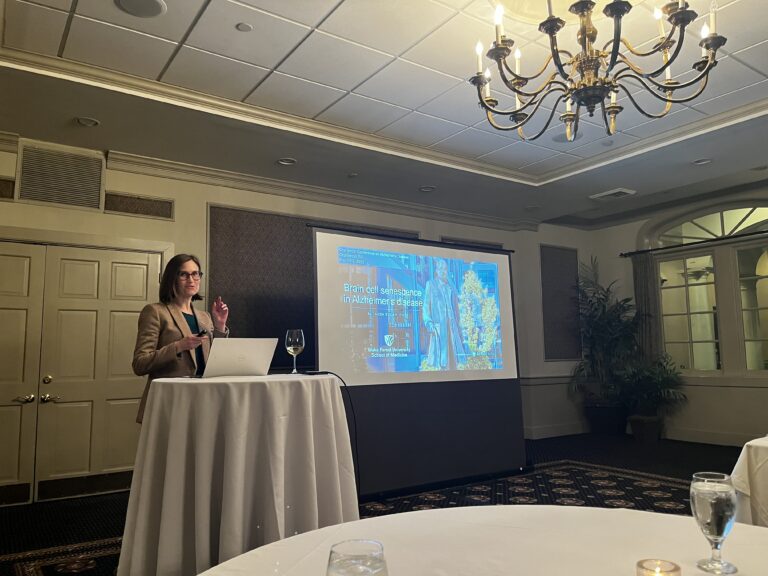 2020 New Vision Awardee, Miranda Orr presents research progress at this year's conference
I am a translational neurobiologist investigating how and why advanced age increases the risk for developing Alzheimer's disease. My research program spans discovery science to early stage clinical trials. In 2018, my team identified a critical connection between cellular senescence, a hallmark of aging, and tau accumulation, a common neuropathology in many neurodegenerative diseases (1). I was invited to attend the Charleston Conference for Alzheimer's disease in 2020, and received a New Vision Research Investigator Award at the meeting. I proposed to investigate whether Alzheimer's disease associated genetic risk factors influence cellular senescence. Support from the New Vision Research Investigator Award allowed me to explore the hypothesis using cutting-edge techniques and strategies that are now integral to my research. Equally rewarding and beneficial impacts of the meeting have been productive collaborations through publications, funded projects and mentorship.
Since the 2020 meeting, my team has reported novel senescent cell biomarkers that can distinguish Alzheimer's disease (2) from cognitively normal age-matched older adults (3), and with cell type specificity across 50 human tissues (4). To translate these findings to the clinic, I am leading a multisite Phase II trial investigating senescent cell removal in older adults with mild cognitive impairment/early Alzheimer's disease (5, 6). For this work, I was awarded the 2022 Melvin R. Goodes Prize for Excellence in Alzheimer's Drug Discovery and was featured in the January 2023 issue of National Geographic for identifying, imaging and targeting senescent cells in Alzheimer's disease. 
Words fail to capture the depth of my gratitude for the mentorship and support from the CCAD community. The New Vision Investigator's Award provided me with support to explore a high risk project at a key time in my career, which catapulted my program. I look forward to my continued involvement in the CCAD community, strengthening my network and serving as a positive influence for future early career investigators.
Musi N, Valentine JM, Sickora KR, Baeuerle E, Thompson CS, Shen Q, et al. Tau protein aggregation is associated with cellular senescence in the brain.

Aging Cell.

2018;17(6):e12840.

Dehkordi SK, Walker J, Sah E, Bennett E, Atrian F, Frost B, et al. Profiling senescent cells in human brains reveals neurons with CDKN2D/p19 and tau neuropathology.

Nat Aging.

2021;1(12):1107-16.

Walker JM, Kazempour Dehkordi S, Fracassi A, Vanschoiack A, Pavenko A, Taglialatela G, et al. Differential protein expression in the hippocampi of resilient individuals identified by digital spatial profiling.

Acta Neuropathol Commun.

2022;10(1):23.

Xu P, Wang M, Song WM, Wang Q, Yuan GC, Sudmant PH, et al. The landscape of human tissue and cell type specific expression and co-regulation of senescence genes.

Mol Neurodegener.

2022;17(1):5.

Gonzales MM, Garbarino VR, Marques Zilli E, Petersen RC, Kirkland JL, Tchkonia T, et al. Senolytic Therapy to Modulate the Progression of Alzheimer's Disease (SToMP-AD): A Pilot Clinical Trial.

J Prev Alzheimers Dis.

2022;9(1):22-9.

Gonzales MM, Krishnamurthy S, Garbarino V, Daeihagh AS, Gillispie GJ, Deep G, et al. A geroscience motivated approach to treat Alzheimer's disease: Senolytics move to clinical trials.

Mech Ageing Dev.

2021;200:111589.